The Delaunay Triangulation
Delaunay triangulation is a proximal method that satisfies the requirement that a circle drawn through the three nodes of a triangle will contain no other node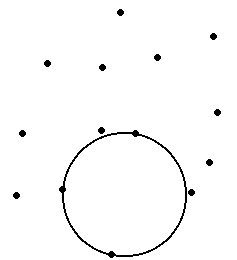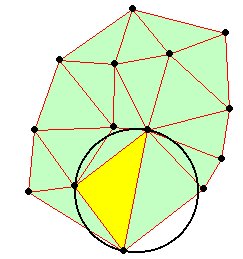 Delaunay triangulation has several advantages over other triangulation methods:
The triangles are as equi-angular as possible, thus reducing potential numerical precision problems created by long skinny triangles
Ensures that any point on the surface is as close as possible to a node
The triangulation is independent of the order the points are processed
TINs from contours
Contours are a common source of digital elevation data. In general all the vertices of the contour lines are used as mass points for triangulation. In many cases this will cause the presence of flat triangles in the surface.
Flat triangles are created whenever a triangle is formed from three nodes with the same elevation value
Flat triangles are frequently generated along contours when the sample points occur along the contour at a distance that is less than the distance between contours. When these "excess" vertices are not removed , the Delaunay triangulation discovers that the closest sample points are those along the same contour, causing the generation of flat triangles.
The flat triangles have a slope of 0 and do not have defined aspect. They might cause problems when the surface is used for modeling.
Example