Clean Polygons
Ensures topological correctness of a polygon feature data set.
Inputs:
A polygon feature layer
Fuzzy tolerance
Outputs:
New topologically correct Polygon dataset (no overlaps present)

Redundant data (overlaps and gaps smaller than the fuzzy tolerance) will be eliminated
The overlaps greater than the fuzzy tolerance are converted into new polygons.
Every new polygon carries the attributes of one of the source overlapping polygons
The attributes of the input data set are preserved

Optional Point feature class that identifies the overlaps in the input data set. Each point represents an overlapping polygon in this location. A new field (OriginalID) is added to the point attribute table where the ID of the original polygon represented by this point is recorded.
Notes :
The default Fuzzy tolerance is calculated from the extents of the input layer using the formulae (W + H) / 2000000 where W and H are the with and height of the extent envelope.
Larger values of the Fuzzy tolerance may be used to clean some bigger Gaps and Slivers, but it might lead to unwanted approximation of the input shapes. The better option is to use Fuzzy tolerance close to the default and then clean the remaining Gaps and Slivers with the Clean Gaps function and Eliminate function
If a Fuzzy tolerance of 0 is specified, the function will use the default Fuzzy Tolerance (see above).
Example:
Input Layer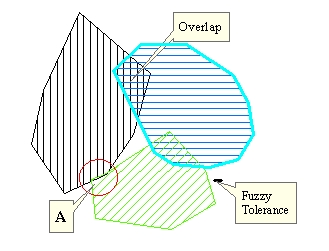 After Clean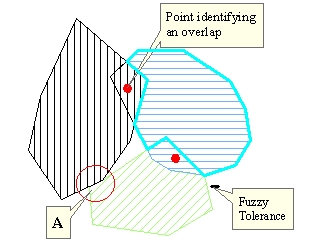 Detail A before Clean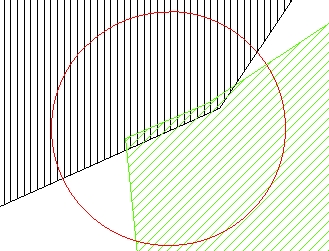 Detail A after Clean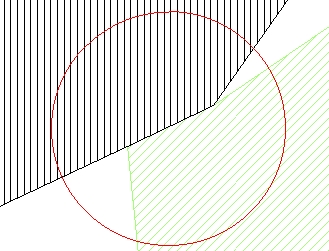 Running Programmatically
Parameters
| Expression | Explanation |
| --- | --- |
| Function Name | CleanPolygons |
| <input dataset> | A String representing the input layer. Must be of Polygon type. |
| <output dataset> | A String - the full name of the output layer. |
| <Fuzzy Tolerance> | A Double representing the Fuzzy Tolerance. |
| {Overlaps Name} | A String representing the output point layer indicating the overlaps in the original polygons. |
| {Sort Field} | A String representing a field to be used to sort the data before processing. The first features in the input dataset after sorting using that field will have priority during the cleaning process. |
Running the function
ETGWPath used in the table below is the full path to ETGWRun.exe (E.G. "C:\Program Files\ETSpatial Techniques\ETGeo Wizards\ETGWRun.exe")
Language
Syntax
Python
subprocess.call([ETGWPath, "CleanPolygons", "input dataset", "output dataset", "Fuzzy Tolerance", "Overlaps Name", "Sort Field"])
.NET using ETGWRun.exe
StartInfo.FileName = ETGWPath
StartInfo.Arguments = "CleanPolygons" "input dataset" "output dataset" "Fuzzy Tolerance" "Overlaps Name" "Sort Field"
.NET using ETGWOutX.dll
CleanPolygons(input dataset, output dataset, Fuzzy Tolerance,Overlaps Name, Sort Field)
ArcPy
arcpy.CleanPolygons(input dataset, output dataset, "Fuzzy Tolerance", "Overlaps Name", "Sort Field")
Notes: