Create Cluster Polygons S
Delineates cluster polygon for the input points based on user specified cluster distance.
Inputs:
A Point feature layer.
Cluster Tolerance - in the units of the spatial reference of the input dataset.
Holes/No Holes option
Outputs:
Notes:
The algorithm starts from a random point and if finds 2 points closer than the Cluster Tolerance to the start point creates an initial cluster polygon. As long as there is another point closer to the initial cluster polygon, it is joined to it. The function is suitable for creating elongated clusters for points representing linear spatial phenomenon.
See also the ClusterPolygonsC function which uses a different algorithm and creates Center based clusters.
Examples:
Source Points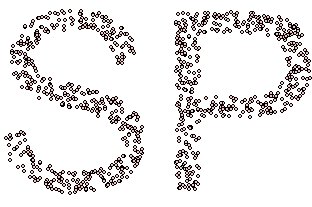 Cluster Polygons 1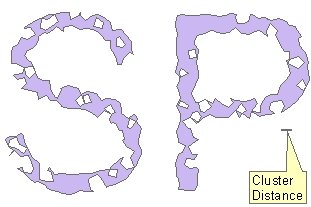 Cluster Polygons 1 overlaid with the source points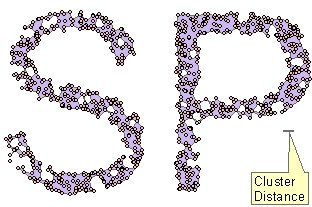 Cluster Polygons 2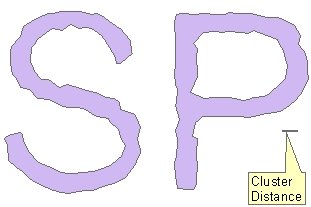 Cluster Polygons 2 overlaid with the source points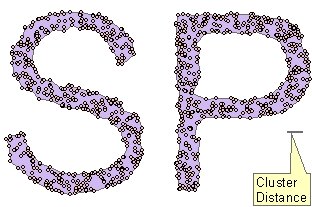 Cluster Polygons 3 (No Holes option selected)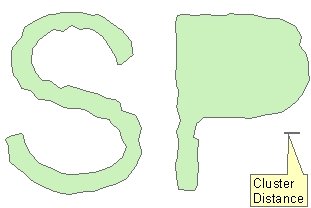 Cluster Polygons 3 overlaid with the source point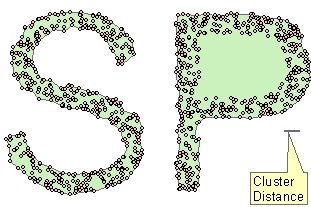 Running Programmatically
Parameters
| Expression | Explanation |
| --- | --- |
| Function Name | PointsToClusterPolygonsS |
| <input dataset> | A String representing the input layer. Must be of Point type. |
| <output dataset> | A String - the full name of the output layer. |
| <Cluster Tolearance> | A Double representing the Cluster Tolearance( in the units of the spatial reference of the input dataset). |
| {Remove Holes} | A Boolean indicating whether the function to remove the holes created during the interpolation. |
Running the function
ETGWPath used in the table below is the full path to ETGWRun.exe (E.G. "C:\Program Files\ETSpatial Techniques\ETGeo Wizards\ETGWRun.exe")
Language
Syntax
Python
subprocess.call([ETGWPath, "PointsToClusterPolygonsS", "input dataset", "output dataset", "Cluster Tolearance", "Remove Holes"])
.NET using ETGWRun.exe
StartInfo.FileName = ETGWPath
StartInfo.Arguments = "PointsToClusterPolygonsS" "input dataset" "output dataset" "Cluster Tolearance" "Remove Holes"
.NET using ETGWOutX.dll
PointsToClusterPolygonsS(input dataset, output dataset, Cluster Tolearance, Remove Holes)
ArcPy
arcpy.PointsToClusterPolygonsS(input dataset, output dataset, "Cluster Tolearance", "Remove Holes")
Notes: