Thin Points
Reduces the number of points in a point dataset based on their spatial location.
Points that are closer to each other than the tolerance specified will be converted to a single point.
The values in the field specified will be summarized for each cluster and saved in the point representing this cluster.
Optionally a copy of the original layer will be created. The attribute table will have a field enabling a back link from the generalized points to the original ones to be created.
Inputs:
A Point feature class
Generalization tolerance - should be smaller than 20% of the smaller side of the extent envelope of the input dataset.
Data field - if specified the output feature class will have a field in which the value for each resulting point will be the sum of the values of the points pertaining to this cluster.
Outputs:
New point layer. Fields:

[ET_Count] - the number of points from the input feature class represented by each output point
[ET_Link] - added only if the "Add Link from the original points" option is selected.

Optional point layer - a copy of the original points with a link field added.
Notes:
If no Generalization tolerance of 0 is specified only the exact duplicates will be removed
Examples:
Input Dataset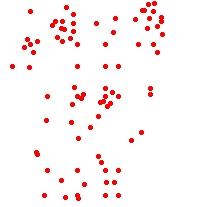 Result Dataset labeled with the number of points they represent (ET_Count field)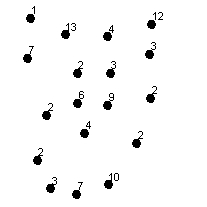 Overlay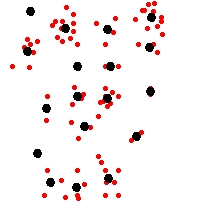 Parameters
| Expression | Explanation |
| --- | --- |
| Function Name | ThinPoints |
| <input dataset> | A String representing the input layer. Must be of Point type. |
| <output dataset> | A String - the full name of the output layer. |
| <tolerance> | A Double representing the Generalization tolerance (in the units of the spatial reference of the input dataset) to be used |
| {LinkName} | A String representing the full name of the optional output layer. |
Running the function
ETGWPath used in the table below is the full path to ETGWRun.exe (E.G. "C:\Program Files\ETSpatial Techniques\ETGeo Wizards\ETGWRun.exe")
Language
Syntax
Python
subprocess.call([ETGWPath, "ThinPoints", "input dataset", "output dataset", "tolerance", "LinkName"])
.NET using ETGWRun.exe
StartInfo.FileName = ETGWPath
StartInfo.Arguments = "ThinPoints" "input dataset" "output dataset" "tolerance" "LinkName"
.NET using ETGWOutX.dll
ThinPoints(input dataset, output dataset, tolerance, LinkName)
ArcPy
arcpy.ThinPoints(input dataset, output dataset, "tolerance" , "LinkName")
Notes: