Aggregate Polygons
Combines the polygons from the input layer that are within the user specified distance into new polygons. Can be used also to generalize buildings.
Inputs:
A polygon layer
Aggregation distance. The polygons that are closer to each other than this distance will be combined
Minimum area of the holes to be preserved - all holes with area less than this tolerance will be removed.
Outputs:
Notes:
The new layer will not have any attributes. The Transfer Attributes function can be used to get summarized attributes from the original polygons.
The Aggregation distance and the Minimum area of holes should be specified in the units of the spatial reference of the input layer
If no Minimum area of holes is specified only the holes with area smaller than 2 x Aggregation distance x Aggregation distance will be removed
Examples:
General polygons
Input Dataset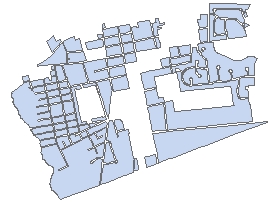 Result (No Minimum area of holes specified)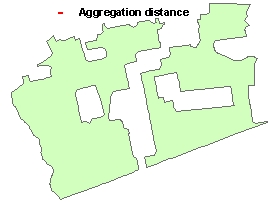 Result (Minimum area of holes specified)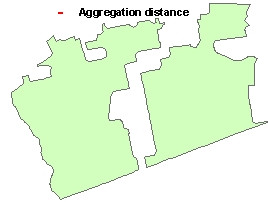 Buildings
Input Dataset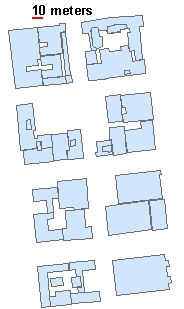 Aggregate distance = 1 meter
Aggregate distance = 5 meters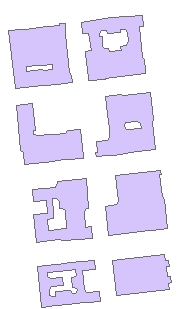 Aggregate distance = 10 m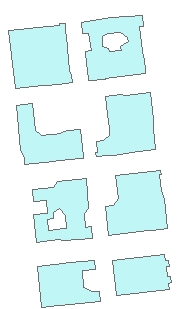 Aggregate distance = 20 m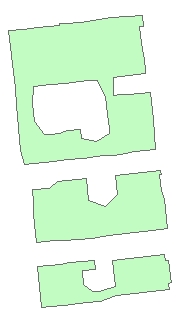 Running Programmatically
Parameters
| Expression | Explanation |
| --- | --- |
| Function Name | AggregatePolygons |
| <input dataset> | A String representing the input layer. Must be of Polygon type. |
| <output dataset> | A String - the full name of the output layer. |
| <Aggregation Distance> | A Double representing the aggregation distance. The polygons that are closer to each other than this distance will be combined. |
| {Area Tolerance} | A Double representing the minimum area of holes to be preserved. All holes with area less than this tolerance will be removed. |
Running the function
ETGWPath used in the table below is the full path to ETGWRun.exe (E.G. "C:\Program Files\ETSpatial Techniques\ETGeo Wizards\ETGWRun.exe")
Language
Syntax
Python
subprocess.call([ETGWPath, "AggregatePolygons", "input dataset", "output dataset", "Aggregation Distance", "Area Tolerance"])
.NET using ETGWRun.exe
StartInfo.FileName = ETGWPath
StartInfo.Arguments = "AggregatePolygons" "input dataset" "output dataset" "Aggregation Distance" "Area Tolerance"
.NET using ETGWOutX.dll
AggregatePolygons(input dataset, output dataset, Aggregation Distance, Area Tolerance)
ArcPy
arcpy.AggregatePolygons(input dataset, output dataset, "Aggregation Distance", "Area Tolerance")
Notes: